If your website is hosted on a server without an email server, don't worry, there are other ways. In fact, I prefer the following method, rather than hosting the emails on the same server as my website, because even if my website is offline for some reason, my email will still work.
In short, I recommend using https://improvmx.com/ (free service) which forwards all emails sent to your domain, to Gmail (also free). Inside of your Gmail account, you can then add a personalized email address of your domain, such as contact@example.com, as an alias, which allows you to send emails from contact@example.com. This way you can send and receive emails using contact@example.com in Gmail, and no one will know you're using Gmail nor will they see your real Gmail address.
Step #1 – Create a Gmail account
First you need to have a Gmail address. If you do not have a Gmail account yet, you would need to create one. If you already have a Gmail account, but don't want to mix your personal emails with the one of your domain, I recommend you also create a new Gmail account. Don't worry, Google allows you to have multiple Gmail accounts, and you can easily switch between them inside of Gmail (top right icon -> Add Account).
Remember, no one will be able to see your Gmail email address, so it doesn't matter if your Gmail address looks a bit unprofessional due to the lack of available names.
Step #2 – Go to ImprovMX.com
As soon as you have a Gmail account, head over to https://improvmx.com/. On the front page you're being asked to enter your domain name and the email address where you would like the emails to be sent to (your Gmail address).
In my example, I will use my domain name aobrien.org, and I will forward the emails to aedan.tutorial@gmail.com. Once entered, click the green button Create a free alias.

Step #3 – Setup the MX and SPF records of your domain
On the next page of ImprovMX, you're being asked to setup the MX and SPF records of your domain. The MX records are records in the domain, that lets everyone know which mail server your domain is using. By using the MX records of ImprovMX, all emails that are being sent to your domain, are actually being sent to the email server of ImprovMX, and they are then forwarding those emails to your Gmail address. All emails are being forwarded instantly.
The SPF records indicate whether your domain allows ImprovMX to send emails on your behalf.
In my example, I am hosting my domain with GoDaddy.com. If you are hosting your domain with another provider, the next steps will slightly differ, but the same MX and SPF record entries will apply.
You will now have to log into your GoDaddy account -> Manage Domains -> Click on your Domain -> Manage DNS. You should now see the following page: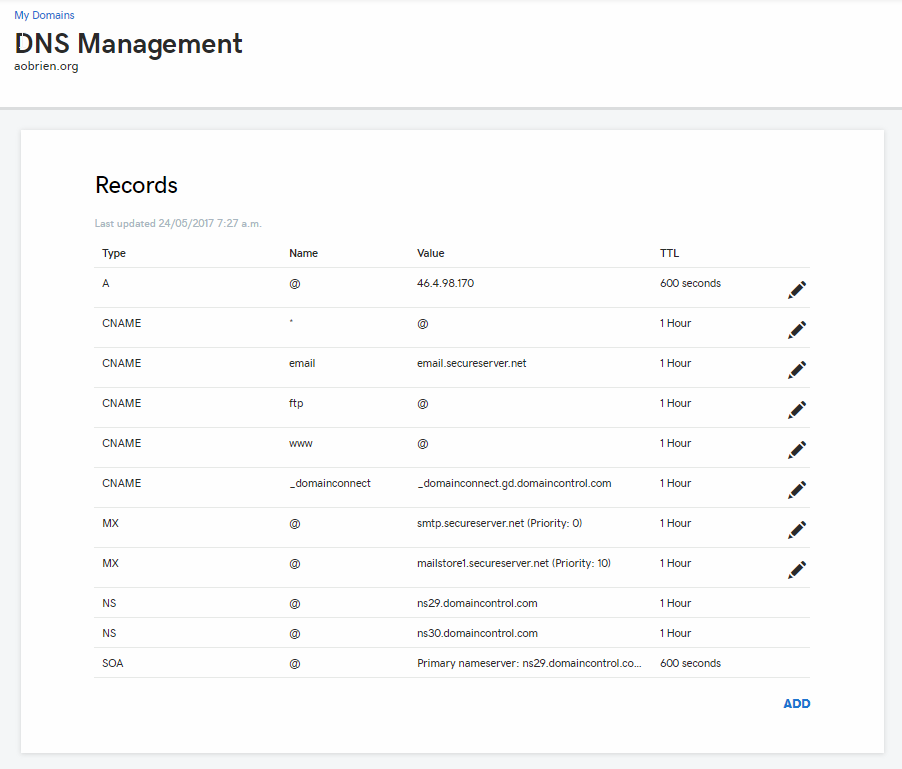 If you see any MX records, in my case I have 2 already, delete them (Edit icon -> then trash icon). Make sure all MX entries are deleted.
Should you see a TXT record where the value starts with v=spf1, make sure to delete that as well. Other TXT records can be left as they are.
Once deleted, click Add to add a new record. Select MX and use the following settings:


Host: @
Points to: mx1.improvmx.com
Priority: 10
TTL: 1 hour
Click save, and then add a second entry with the following values:
Host: @
Points to: mx2.improvmx.com
Priority: 20
TTL: 1 hour
That's it for the MX records.
We can now add the SPF record. Click Add to add a new record. Select TXT and use the following settings:

Host: @
Points to: v=spf1 include:spf.improvmx.com ~all
TTL: 1 hour
Click save. That's it for all the DNS entries.
Your page should now have 2 MX entries and 1 TXT record with spf, and will look something like this (don't worry if you have different A, CNAME records, that's fine. We only care about the MX records and TXT record for SPF. You might also have other TXT records containing other values, which is totally fine, as long as there is just 1 TXT record that contains the SPF entry.):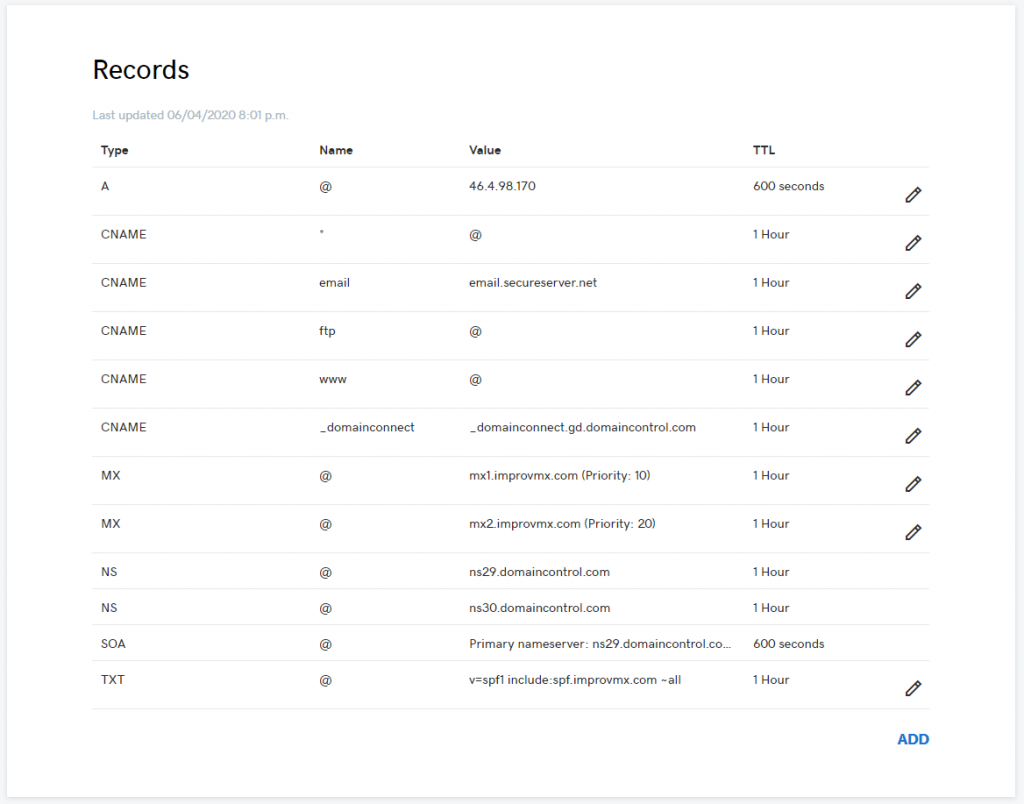 That's it for the MX settings. Head back to ImprovMX, and at the bottom of the page click All good, continue!
Step #4 – Activate email forwarding
You should now be inside of your Dashboard at ImprovMX. You might see the message Email forwarding needs setup.

This is normal, as it can take a few minutes, or in some case even hours, until your domain hoster has updated the new MX records. Click the CHECK AGAIN button to see if the email forwarding is active.
Once active it will turn green and you can setup the different email addresses. The first line with the * symbol is a wildcard, which creates a "catch-all" address . This means any email sent to any email address which is not listed below, will be forwarded to that email address. If you receive a lot of spam, you might want to delete the wildcard entry.
There is a TEST button you can click, which will send you a test email, but from my experience, when you first setup the email forwarding, it can take 10 – 15 minutes until it starts working. So if you don't receive a test email straight away, don't panic, it's probably because it's still being set up in the background.
Step #5 – Add the email alias inside of your Gmail account
Once that is setup, you can go to your Gmail account, and add that email address as an alias. ImprovMX has created a nice tutorial on how you can add an alias to your Gmail account: https://improvmx.com/guides/send-emails-using-gmail
That's it. All done.

Note:
I absolutely love ImprovMX. It's a fantastic service these guys created. Super simple and free.
If you're having issues, you can contact support@improvmx.com, as they offer free support.
Incase you want to support the guys over at Improvmx.com, consider upgrading your account to premium, where your email server is being upgraded to military-grade privacy, hosted in Switzerland, in an underground bunker, 270m inside a mountain (no joke!). Plus they'll give you priority support by livechat, and offer even faster servers.