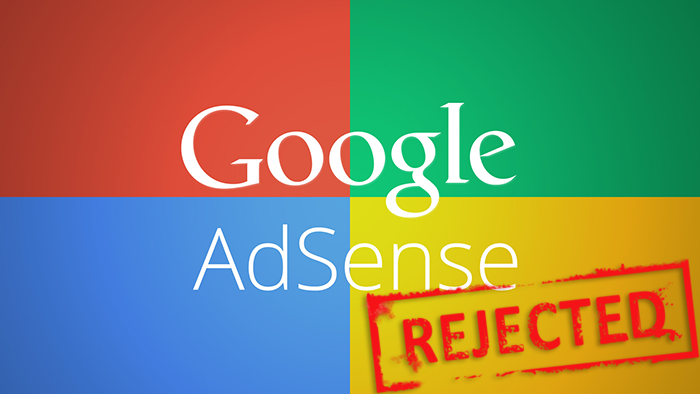 Read this, if you do not have a Google AdSense account yet, or if you have had your application declined.
First off, know that you only need to get your AdSense account approved once, with just 1 website, and then you can use your AdSense account on as many websites as you wish, without the need to get approved again.
Also important, is that you need to use your real address for your AdSense account, because Google will send out a code by mail (yes, good old mail, not email), which contains your activation code. If you use a fake address, you won't be able to activate your account.
Google has become stricter and stricter with approving their AdSense accounts, and yet there still doesn't seem to be any exact requirements on what Google really wants. Yes, they do have guidelines on what they say they want, but even those don't seem go hand in hand on what they actually approve or decline.
One thing stands out though, Google wants your first website, to be a quality website, and in most cases this means that your website needs to have unique content and an overall good look. So if you apply for an AdSense account that uses duplicate content, there is a big chance that Google will reject the application.
However you can always try to apply anyway with your current website, even if this is a website that contains duplicate content, you might get lucky. I say this, because over the years I have seen customers get their AdSense accounts approved with clone websites within just 24 hours, and then I saw clients who had their AdSense application declined straight away.
One time I had a customer with a premium domain (4 letter .com domain), and he used only duplicate content on his site (it was a mini games website). I told my customer he won't be able to get approved with this website due to non-unique content, but to my surprise, Google approved the application within 24 hours.
But then again, I had customers with other good premium domains, who had their application denied over and over again.
There really seems to be no rhyme or reason on how Google deals with this.
So what can you do?
You basically have 4 options
Apply with your current website and see if it works
Buy an AdSense activation service.
Create your own unique website and apply with that website.
Use a content spinner for all of your automated articles.
Keep in mind you can always use other advertisement partners, such as Amazon, Clickbank.com, MaxxRTB .com etc. (more below).
Buy an AdSense activation service
Due to the high amount of rejections of Google AdSense accounts, some people have made it their business, to activate AdSense accounts. The way they work, is that they create a basic website with unique content, and then use that website for your approval process. Prices for such services are around $20 to $50.
You can always search via Google as well. There are many websites offering AdSense activation services for around $50.
https://www.google.com/search?q=buy+adsense+account
On Fiverr.com there are several gigs every now and then. Their prices start from around $20. Make sure to order for "Normal Accounts" and not "Hosted Accounts".
However Fiverr.com seems to be removing those gigs every now and then. Click here to see if there are any gigs available at the moment:
https://www.fiverr.com/search/gigs?utf8=%E2%9C%93&search_in=everywhere&source=guest-homepage&locale=en&query=AdSense+account&page=1
Alternative Option: Create your own unique website.
I know it sounds like a big deal at first, but this is what you do:
Register a new domain name
Install a basic WordPress website
Use a nice looking theme from WordPress.org
Create around 15 to 20 articles, each with 300 to 500 words, and 1 – 3 images per article.
Add an "About Me/Us" page.
Add a privacy page
Add a contact form
Add some widgets to your sidebar, such as categories, archive, recent posts, tag cloud. This way the website looks populated.
Submit your website
Create a good front page, with either your latest blog posts or your a static page. Make sure it looks populated
You can also modify your current website, and add a lot of unique articles to it, and temporarily remove all duplicate content.
If you don't have any experience with creating your own websites, then I suggest you use an AdSense activation service.
Use A Content Spinner
If you have own a website that automatically adds new articles several times a day, those articles are most likely duplicate. A content spinner software, is a software that automatically rewrites articles and creates a unique version of that.
The way it works, is that you sign up with a content spinner from the list below. You would also need to install a plugin like https://codecanyon.net/item/wordpress-auto-spinner-articles-rewriter/4092452. The content spinner provider will give you API credentials, which you can then enter into your WordPress admin panel, and all articles will then automatically be rewritten.
The prices are anywhere from $50 once off payment up to $50 per month, depending on the software and the quality of articles they create.
My recommendation would either be SpinRewriter or WordAi.com. However WordAI.com is incredibly expensive.
Please note: Even if you use a content spinner, there is no 100% guarantee that Google AdSense will approve your website.
Other Advertisement Partners